---

Perfect Logistic Icons allow web designers and application developers produce professional-looking products for logistics and storage specialists, government and business applications. Whenever you are creating or customizing an application that deals with transport and logistics, such as a delivery calculator, a CRM or ERP system, clear visuals are essential for efficient interaction between the user and the system. Considering that transportation-related applications are often use in dynamic working environments that require quick reaction and fast data processing, a simple and intuitive interface is an absolute must-have for such solutions. Each icon should unambiguously correspond to a certain function or menu item, which helps users automate their actions quicker.

Perfect Logistic Icons is a set of 126 carefully designed high-quality icons covering a wide range of topics. The icons are available in four major formats (ICO, PNG, GIF and BMP) and two color variations, 8-bit and 32-bit with an alpha channel. For even more development flexibility, each icon comes in four different sizes (16x16, 20x20, 24x24, 32x32 and 48x48 pixels) and states (normal, disabled, highlighted.


Perfect Logistic Icons
Download demo icons
Purchase this icon set now!
---
Perfect Warehouse Icons – Offering Great Assistant for Warehouse Workers!
Perfect Warehouse Icons are a set of icons that is specially designed to meet the requirements of web developers, warehouse workers and logistic professionals. The sets of icons represent variety of object, symbols and notion for the field. The sets of Perfect Warehouse Icons also represent hardware tools such as drill, ironware, screwdriver and many other items. The collection of Perfect Warehouse Icons will definitely enhance any warehouse portal or trade management application. It is absolutely impossible to produce a trade management application without the help of Perfect Warehouse Icons. These icons also show various symbols, objects for warehouse industry including desk icon, kitchen icon, ware house icons and other. After ordering these sets of icons you can get 204 unique icons in various format, states and resolutions. Each icon comes in sizes of 16x16, 20x20, 24x24, 32x32 and 48x48 pixels. Now you can get these entire set of 204 icons in just $99.95.

Nowadays, the great applications are made for the Inventory Management or monitoring purposes. The warehouse workers, sales personnel and managers make use of this on the daily basis that needs best possible level of the usability or comfort. The well readable interface is the most significant elements of the efficient application, since it gives the users good idea regarding the way functions as well as commands are been grouped and allows them finding right ones without even spending a lot of time browsing by many menus. The increased efficiency of the single warehouse worker and salesperson means efficiency of whole Company that is very hard to overestimate. In case, you work on the warehouse application or will not figure how you can solve UI problem under fixed DeadLine, and try the comprehensive as well as professionally looking sets with Perfect Warehouse Icons!


---
Individual Ready Icons
You can buy individual icons to suit your needs. Each icon is $1 when purchased individually.
Icon Usage Agreement
Perfect Toolbar Icons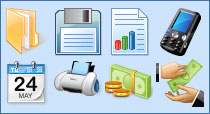 Business Toolbar Icons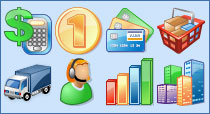 Database Toolbar Icons