---
Toolbar Icons for Web and Software Design
Prioritize your project with premium toolbar icons! Let your software products and Web sites look great! Enhance the appearance of your new projects with readily available Perfect Toolbar Icons. Professionally designed, carefully crafted and meticulously matched icons make a perfect set for web design.

Your purchase gets you 488 icons in semi-transparent 24-bit and 8-bit formats, in sizes of 16x16, 20x20, 24x24, 32x32, and 48x48 pixels, and in three states: normal, disabled, and highlighted. You will get the icons in all of the following file formats: Windows Icon (ICO), Bitmap (BMP), GIF, and PNG.




Perfect Toolbar Icons
---
Prioritize your Project with Premium Toolbar Icons
No matter the program or utility at hand, the user's visual experience is one of the most important aspects of success, and toolbar icons can play a significant role in enhancing any visual environment. This collection of premium, professionally designed toolbar icons can give your application the bright appeal, ease of use, and overall panache it needs to make an instant impression -and keep users coming back for more.

A wide variety of icon types representing a vast array of functions and features lets you seamlessly coordinate your look, while three distinct icon modes including normal, highlighted, and disabled offer endless combinations. From graphs, flags, and globes, to people, groups, and objects, with scores of items in between, these icons are ready to cover any set of tasks and won't leave you fruitlessly searching for a good fit. Looking for quality thumbs-up and other hand-based ICO icons? You'll find them ready for incorporation into your project with this collection. Game icons or complex report graphics? They're all included.

Vibrant colors, smooth lines, and the finesse of sleek modern graphic design accentuate each icon, giving it both timeless familiarity and the attraction of today's aesthetic trends. Classic symbols and signs are used throughout to lend an intuitive function to the toolbar icons, and simple yet interesting icons have been created for new and less common uses. No matter what you'd like to represent with a toolbar icon, this collection has you covered brilliantly.

You'll receive your toolbar icons in multiple formats to allow for ease of use; choose from ICO, BMP, GIF, and PNG. The icons are delivered in five resolutions of 16 by 16 pixels, 20 by 20, 24 by 24, 32 by 32, and 48 by 48, ensuring you'll always be able to quickly and easily select the icon that's precisely right and ready for the job. Knowing how to please your users with a functional and good-looking program can lead the way to your project's prosperity. Make sure you give your project the edge it needs to grab attention and appreciation every time a program is used by choosing a quality collection of toolbar icons.


---
Individual Ready Icons
You can buy individual icons to suit your needs. Each icon is $1 when purchased individually.
Icon Usage Agreement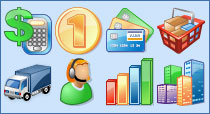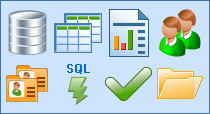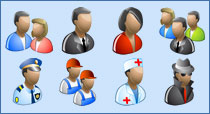 Icon Usage Agreement