---

Perfect Science Icons is what the name states – a brilliant set of icons illustrating notions and concepts in different fields of science including astronomy, mathematics, physics, biology, information technologies, and many more. For a decent price of $49.95 you receive a huge heap of 280 precisely painted scientific icons.

All icons are organized into folders, so it is easy to find an icon of the particular size or format. Perfect Science Icons envelopes icons of 16x16, 20x20, 24x24, 32x32, and 48x48 pixels saved in one of four picture formats: Bitmap (BMP), Windows Icon (ICO), Portable Network Graphics (PNG), and GIF. Each icon enjoys various color formats as well, including 16 and 256 colors, and 32-bit with transparency.


Perfect Science Icons
---
Engineering and Scientific Icons in a Snap
The more specific the field you develop software in, the more difficult is to find icons illustrating at least key concepts of that field in common icon stocks. In fact, you barely can find two or three icons in each of freely available packages, and those will not necessary be of the same style or quality. At the same time custom designed icons can turn to be way too costly. So if your budget cannot bear that much, you should definitely consider purchasing Perfect Scientific Icons pack. This set contains multiple specialized scientific and engineering icons for an affordable price.

Despite many of us think of science as a boring thing, our icons demonstrate quite the opposite. Living, high-detail glyphs and images represent dozens of concepts and ideas in multiple fields of study. Chemistry, biology, physics, engineering, computer research, databases, astronomy – this is just a brief list of disciplines Perfect Science Icons illustrates. Among 280professionally designed icons are lab apparatus icons, electricity icons, scientific discipline icons, hardware and tools icons, nature icons and many others. And every icon in this engineering and scientific icon set is tailored for software development.

Indeed, the icons are organized by folders, in line with their size, color depth and type (normal, disabled or highlighted). In addition the package contains PNG, ICO, BMP and GIF versions of icons, so whatever is the type of a software product that you develop, finishing it with these icons takes no efforts. The visual part of the software plays a significant role in building the very first impression of a user, so neglecting this factor can easily turn an otherwise great product to an "incomprehensible cumbersome thingamajig" in the eyes of a potential buyer. So whether you are looking for toolbar icons for your scientific software, or you would like to illustrate other engineering or scientific project or website, purchasing Perfect Science Icons will definitely pay off.

Perfect Science Icons contains unique distinctive icons made in five different sizes and presented in four image formats. Most of these icons are hard to find anywhere else, even for free! Taking into account the affordable price we ask for this nice package of scientific and engineering icons, this is certainly a bargain. For as low as $49.95 you get 280 precisely drawn "turn-key" icons ready to be put on to a website or a toolbar in any scientific program, whether it runs on Windows or Android OS.


---
Individual Ready Icons
You can buy individual icons to suit your needs. Each icon is $1 when purchased individually.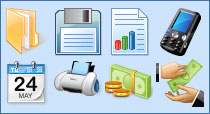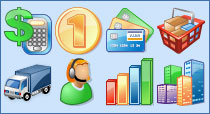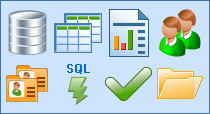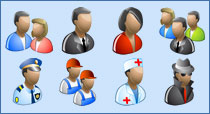 Icon Usage Agreement