---
Hardware Icons for System Software and Computer Shops
Perfect Hardware Icons is a collection of wonderful hand-made icons for use in various system software products, online computer shops, information web sites and databases. The icons have bright color palette, smooth and well-rounded edges.

Your order gets you 180 unique icons. Each image comes in multiple states, resolutions and formats. Each icon comes in all sizes of 16x16, 20x20, 24x24, 32x32, and 48x48 pixels, and three states: normal, disabled, and highlighted. Color depths of 256 colors and 32-bit True Color are supported. All icons are supplied in Windows Icon (ICO), Bitmap (BMP), GIF, and PNG formats. The entire set is available for only $49.95.


Perfect Hardware Icons
Download demo icons
Purchase this icon set for $49.95 now!
---
Do You Know the Advantages of Using Images On Your Site?
Graphics and icons are being featured on most sites online; there are innumerable advantages to including icons on your online establishment and here is some information on how these can help you to attract your clients for a second and even a third serving of your products and services.

Early on, website creation had rather unimpressive foray and HTML was the sole tool utilized to design sites but things have changed drastically since then. Web pages have undergone a metamorphosis; now, these web sites are entertainment portals that tantalize your visual as well as you auditory senses.

Those days are behind us when customers had to make do with several web pages of information with no visual stimulation, at this point a majority of websites are decorated with the intelligent utilization of web images. If you haven't already incorporated icons in your website design, you are letting go of a large group of clients, so here is a look at how you can use tiny pictorial depictions on your online business to increase its value.

Actual Application: Icons just as other graphical depictions offer a lot of information in a small picture. They give the user a clear impression about the different web pages of the online establishment and assist attract their attention. Include them for the rapid transmission of an idea or to give importance a section of your website. So let's see how icons and web graphics can be used for the task.

pictorial depictions not only augment the aesthetic and visual allure of a website, they can also prove indispensable when it comes to helping the visitor with page navigation, icons are not only crucial for increasing the visual appeal of the task, but also make the website seem professionally designed.

These tiny graphical representations gel extremely well when incorporated with a few words to get the readers attention to a mid page navigation set up. Normally the navigation link would be lost in the midst of the in the company of several words ; however, with the assistance of web graphics, you can ensure that the viewer knows clearly how he can get to some other section of the page on the site without hunting for the navigational link. So, icons are unbelievably helpful in attracting attention to some parts of the website like the special offers. Icons also present an amazing and effective inclusion that can help to to simplify a web page. If you want to give your clients exclusive deals on your site that you would like the visitors to see, use graphical representation to garner their attention.

Pictorial depictions can also be used to let your clients know about the products that you sell without them needing to read paragraph after paragraph. For instance, if you want to provide information on the fact that the sales figures have been increasing, simply put a pie chart to use to give this information in a clear way. You have to realize that it is best to use images that are commonly associated with the information that you are trying to convey and can be deciphered without pondering over them. If your web page offers information in the for of many heading used for numerous topics use images to make sure that each one of these headings are clearly demarcated with an extra dose of oomph. Come to think of it, you can create a complete site with nothing else but pictorial depictions with only a line or two dedicated to words. This form of website design is simplistic but attractive. Besides you just cannot ignore the practical uses of such a design. It is not unusual to observe images being put to use as a tributary of the establishment's brand management steps on the other hand on certain websites these graphical representations are used to just add to the look of the website.

---
Individual Ready Icons
You can buy individual icons to suit your needs. Each icon is $1 when purchased individually.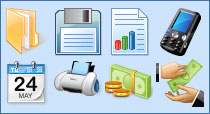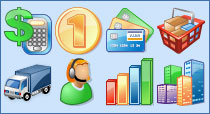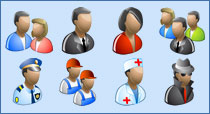 Icon Usage Agreement