---
Database Icons for Beautiful, Brilliant Software
Perfect Database Icons is a collection of wonderful hand-made icons for use in various database products, including software applications, information web sites and presentations. The icons have bright color palette, smooth and well-rounded edges.

Your order gets you 212 unique icons. Each image comes in multiple states, resolutions and formats. Each icon comes in all sizes of 16x16, 20x20, 24x24, 32x32, and 48x48 pixels, and three states: normal, disabled, and highlighted. Color depths of 256 colors and 32-bit True Color are supported. All icons are supplied in Windows Icon (ICO), Bitmap (BMP), GIF, and PNG formats. The entire set is available for only $99.95.


Perfect Database Icons
Database Icons for Beautiful, Brilliant Software
Some of today's most exciting and powerful applications work directly with databases, granting users precise control over large volumes and complex strings of information. The crafting of applications and software functions for database development is as challenging as it is rewarding, and having the right visual accessories can mean the difference between a ho-hum project and one with the potential to become a major asset in the field. Database icons are an essential component of any successful industry program, but finding a collection with the scope, quality, and format flexibility desired can be a pain. That's why we offer a hassle-free set of database icons that provide the perfect graphics and format for any program feature.

Database icons from SQL graphics to user control representations should offer a clean, intuitive, yet stylish aspect, and we've professionally designed this set to keep everything looking sleek and new without sacrificing ease of identification and use. The variety of db icons is unparalleled, ranging from basic database icons for performing simple functions to complex uses such as networking and editing, yet all graphics in the collection feature the same high-quality color and style to promote a sense of cohesion for your product.

With all graphics available in gray scale "disabled" format as well as normal and highlighted modes, you can incorporate our database icons into your software application easily, never finding yourself without an ideal option. Each time you turn to our collection to find the right match, you can act with confidence in the knowledge that the perfect fit will be there, no matter the size or file type you wish to use. Explore the benefits of great-looking db icons with comprehensive graphics and a quality that's visible at every turn.


Download demo icons
Purchase this icon set for $99.95 now!
---
Individual Ready Icons
You can buy individual icons to suit your needs. Each icon is $1 when purchased individually.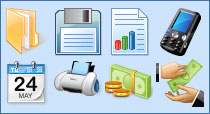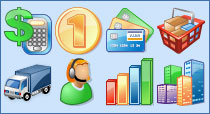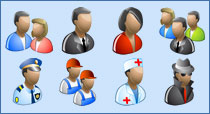 Icon Usage Agreement