---

Warehouse applications or websites are somewhat tough to design or to decorate. The theme requires solid yet comprehensible icons with all specific ideas of the industry depicted as clear as possible. This nice gathering of perfectly styled warehouse icons will natively blend to any warehouse software, or web portal instantly enhancing its visual component. Perfect Warehouse Icons contains quality icons of virtually any object, symbol or glyph a warehouse application may require. Instruments, furniture, equipment, transportation and delivery icons, goods and commodity types Ė the set of 209 unique warehouse icons contains all of the above and more.

Each icon in the set comes in four different sizes, namely in 16x16, 20x20, 24x24, 32x32, and 48x48 pixels, in four picture formats (ICO, BMP, GIF and PNG) and in three states: normal, disabled, and highlighted. Color depth varies from 8-bit to 32-bit. The icon set is available for $99.95 (one-time fee, no recurring payments).


Perfect Warehouse Icons
Perfect Icons for a Perfect Warehouse Service
General icon stocks rarely contain specific icons. While many applications require quite particular glyphs and symbols, and warehouse management is no exception here. Dozens of warehousing-specific glyphs are what almost every trade management, inventory control or storehouse online service canít operate without. Unfortunately, such crucial items as basket icons, package icons, kitchen icons, commodities icons or office furniture icons are not widespread in common stocks, while buying a few larger sets to get merely a couple of warehouse icons in each collection is apparently not a cost effective solution.

Surely, you would prefer a one-stop collection of all warehouse and inventory icons you need, in one place. Perfect Warehouse Icons is just such a collection. This icon set delivers unique quality icons for trading, warehousing, inventory management applications. Here are some examples of whatís inside: tools and instruments (screwdriver, hammer, pump, brush and so on), office tools (barcode scanner, cash register, card reader etc.), shipping option icons (air cargo, train, cargo truck, panel track, lorry), various construction and equipment icons (bulldozer, bricks, excavator, crane) and a variety of commodity types as well.

Perfect Warehouse Icons is an affordable royalty-free icon set. All 209 icons in it are built in the same distinct style to apply the icons as a corporate identity if needed. Though the icons can be used individually too in any storehouse application, trade or logistic control systems.

Perfect Warehouse Icons comes in the range of available size, color and format options, including 16x16, 20x20, 24x24, 32x32, and 48x48 pixels for size, Windows Icon (ICO), Bitmap (BMP), GIF, and PNG for format options, in 256-color, True Color (24-bit) and True Color + alpha (32-bit) variants. Easily integrated, Perfect Warehouse Icons is a cost-effective solution to provide a trading application or a warehouse tool with nice, easily recognizable icons.


---
Individual Ready Icons
You can buy individual icons to suit your needs. Each icon is $1 when purchased individually.
Icon Usage Agreement
Perfect Toolbar Icons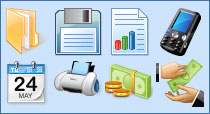 Business Toolbar Icons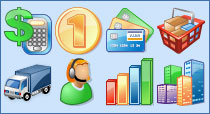 Database Toolbar Icons