---

When it comes to creating eye-catching and efficient user interfaces, quality of interface icons is one of the top ingredients of your success. Perfect CMS Icons is a set of 384 carefully designed high-quality icons covering a range of topics and focusing on the interaction between a user and a program. Intended mostly for content management systems of all sorts, it will also be an excellent choice for any other applications with a complex UI.

The icons are available in four major formats (ICO, PNG, GIF and BMP) and two color variations, 8-bit and 32-bit with an alpha channel. For even more development flexibility, each icon comes in four different sizes (16x16, 20x20, 24x24, 32x32 and 48x48 pixels) and states (normal, disabled, highlighted. This makes it possible to start using the icons in a live application right "out of the box" with minimal of no modifications at all.


Perfect CMS Icons
Download demo icons
Purchase this icon set now!
---
The use of the right icon design can bring a significant impact in compelling customers to use the offered products. The choice however is determined by a number of aspects.

The market has tons of icon designs to choose from. Some are more comprehensive than others while others might be a little bit more complex to understand. The choice however has a great impact on what people will think about them. It is imperative that one puts into consideration a number of aspects before barging into any conclusions of the right icon to use.

To start with, it is important that one understands the main use of the preferred icon designs. The many available designs in the market are designed to satisfy certain purposes. Some might posses' technical meaning which might put many people into a maze. It is highly recommended that one uses the appropriate icon that can be understood by the target audience and that which depict the target product. This will help in avoiding the sending of the wrong meaning to the clients.

The size of the icon design should also be considerable. Depending on the field of use, the icon should be big enough for easy visibility and not large to cover essential icons. This is important in maintaining the desired appealing look of the web page or the computer window. The size chosen should always be of a considerable size. This will ensure that the space is utilized professionally.

Finally, consider the cost of the icon design. Depending on the complexity of the icon, the cost varies greatly. However, in spite of the most expensive being the best option to use, it is always good to use the icon that one can afford. This will help in getting the desired number without financial strains in any way. Choose the icon that best works for you.


---
Individual Ready Icons
You can buy individual icons to suit your needs. Each icon is $1 when purchased individually.
Icon Usage Agreement
Perfect Toolbar Icons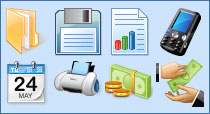 Business Toolbar Icons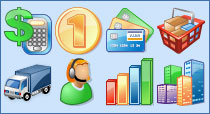 Database Toolbar Icons