---
Website Icon Collection for Web Design
The collection of Perfect Website Icons will instantly enhance any web portal or online shop. This website icon collection depicts a variety of objects, symbols and actions typical for the web sites, including online icon, HTML icon, user icon, client icon, dollar icon, and many others. Website icon images are instantly available and royalty-free.

Try Perfect Website Icons and rest assured that your software will be understood and appreciated. Coming in a variety of resolutions (16x16, 20x20, 24x24, 32x32, and 48x48 pixels), color depths (32- and 8-bit), formats (ICO, BMP, GIF, PNG) and states (normal, disabled, highlighted), they can be used in any interface right "out of the box" and will be a great addition to your application or website!


Perfect Website Icons
Download demo icons
Purchase this icon set for $99.95 now!
---
Aha-Soft Designs a Collection of Royalty-Free Website Icon Images
Aha-Soft announces the release of Perfect Website Icons, a readily available library of stock images for website designers and web developers. The new collection includes over one hundred images drawn in common style, color and gamut. The collection of website icon images sells for $99.95.
About Perfect Website Icon Collection
Perfect Website Icons are an ideal choice for busy website developers. Providing more than one hundred images assembled into a set with similar properties such as style and colors, Perfect Website Icons can be used to enhance website projects and scripts, new text processors, as well as on blogs, forums, and web sites. Perfect Website Icons will make a product, blog or applet look professional and consistent throughout. All icons in the Perfect Website Icons collection are royalty-free. The entire collection is immediately available and comes with an online preview.
What's Included
The icon collection includes images that are commonly used in website applications, text editors, and online publishing mechanisms. Images such as Earth and Online, Dollar, Money and Cash, Sum, Calculator and Delivery, Handbag, Jeep, Taxi, Pill and Drugs, Tablets, Pets and Dog, as well as many others are included. Technically, the set includes icons in a variety of formats, sizes, color resolutions, and styles. Every icon from the collection is supplied in sizes of 16x16, 20x20, 24x24, 32x32, and 48x48 pixels. Normal, disabled, and highlighted states are included for every icon. 256-color and translucent True Color icons are provided. The icon collection is supplied in Windows Icon (ICO), Bitmap (BMP), GIF and PNG formats for instant integration with all systems. The entire library of 241 icons sells for only $99.95.
About the Company
Founded in 2000, Aha-Soft provides a number of software tools and stock icons to webmasters and application developers worldwide. The company develops products for creating, modifying, organizing and publishing icons and small images, and provides a wide range of ready-made, royalty-free icons. The company offers thousands of tastefully designed and individually crafted icons. All icons are available individually or assembled to matching sets. Custom icon design services are available upon request.


---
Individual Ready Icons
You can buy individual icons to suit your needs. Each icon is $1 when purchased individually.
Icon Usage Agreement
Perfect Toolbar Icons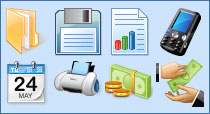 Business Toolbar Icons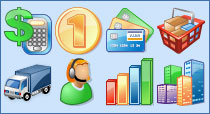 Database Toolbar Icons