---

Perfect Time Icons will add a stylish look to any application or Web site dealing with concepts of time management, scheduling, performance and so on. The icons in this royalty-free set represent a variety of objects, symbols and actions related to these areas, such as time, clock, stopwatch, history, calendar, time machine, speed (fast, average, slow etc.), schedule, time zone, appointment, alarm, hourglass and more. Perfect Time Icons are instantly available and royalty-free.

Your order gets you 94 unique icons depicting various time-related objects and concepts. Each image comes in multiple states, resolutions and formats. Each icon comes in all sizes of 16x16, 20x20, 24x24, 32x32, and 48x48 pixels, and three states: normal, disabled, and highlighted. Color depths of 256 colors and 32-bit True Color are supported. All icons are supplied in Windows Icon (ICO), Bitmap (BMP), GIF, and PNG formats. The entire set of 56 icons is available for only $49.95.


Perfect Time Icons
Download demo icons
Purchase this icon set for $49.95 now!
---
Perfect Icons Announces the Availability of Royalty-Free Time Icons
Perfect Icons has released Perfect Time Icons, a readily available collection of stock images for Web designers and software developers. The new icon set contains 56 icons sharing a uniform look and color. The library of Perfect Time Icons is available for $99.95.

About Perfect Time Icons

Perfect Time Icons are the perfect choice for software and website developers willing to save time and effort on GUI design without sacrificing its quality. This collection of stylish icons hand-drawn by a professional designer can be used in time management and scheduling software, in Web projects and scripts, as well as on blogs, forums, and Web sites. Perfect Time Icons will make a product, blog or applet look professional and consistent throughout. All images in the Perfect Time Icons collection are royalty-free. The entire set is instantly available and comes with an online preview.

What's Inside

The collection of Perfect Time Icons contains a wide array of images representing time, scheduling, time tables and other related concepts. Clocks, calendars, schedules, appointments, time zones and time machine, speed, bell and alarm - all these icons and many others are included in this image library.

From the technical standpoint, the set includes images in a number of formats, sizes, color resolutions, and image styles. Every icon from the collection is provided in resolutions of 16x16, 20x20, 24x24, 32x32, and 48x48 pixels. Normal, disabled, and highlighted states are provided for every icon. 256-color and translucent True Color icons are provided. Each icon in the Perfect Time Icons collection is provided in Windows Icon (ICO), Bitmap (BMP), GIF and PNG formats for easy integration into any systems. The entire collection of 56 Time icons sells for only $99.95.

About the Company

Perfect Icons offers ready-made icons and collections of icons at rock-bottom prices. Thousands of royalty-free stock icons are readily available to webmasters and software developers. Each icon is carefully tagged, making it easy to find exactly what you need. The icons are meticulously designed and assembled into matching collections. All standard sizes and resolutions are available.


---
Individual Ready Icons
You can buy individual icons to suit your needs. Each icon is $1 when purchased individually.
Icon Usage Agreement
Perfect Toolbar Icons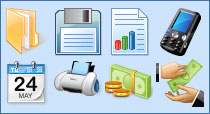 Business Toolbar Icons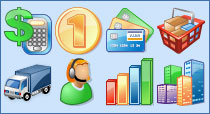 Database Toolbar Icons