---
Web 2.0 Icon Set for Site Designers
Design Web 2.0 sites faster with Perfect Web 2.0 Icons! The collection of 244 unique images is assembled aiming to include icons you're likely to use in Web 2.0 portals, forums, blogs, e-commerce Web sites and social networks. The most common navigation elements, actions, symbols and objects including images of all popular social networks are included. Perfect Web 2.0 Icons are immediately available and come with a royalty-free license, allowing you to re-use the images in as many projects as needed. You can freely re-distribute Perfect Web 2.0 Icons with your apps at no extra charge.

Each image from the Perfect Web 2.0 Icons set comes in normal, highlighted and disabled states. All images are supplied in resolutions of 16x16, 24x24, 32x32, and 48x48 pixels. All images are designed to blend easily with complex backgrounds, and come in 32-bit True Color with dedicated alpha-channel layer. All icons are supplied in Windows Icon (ICO), Bitmap (BMP), and PNG formats. The entire set of 244 images is available for only 49.95.


Perfect Web 2.0 Icons
Download demo icons
Purchase this icon set for 49.95 now!
---
All Perfect Icons for Web 2.0 Apps
Design great Web 2.0 projects! All Perfect Icons offer a royalty-free bundle of Web 2.0 icons you can work with. The collection of 3,200 unique designs helps you building Web 2.0 apps faster.

Producing a Web 2.0 application? If you're making a lot of those, you'll need a quality library of images to rely upon. Aha-Soft offers you a perfect solution: a collection of Web 2.0 icons created to make building Web 2.0 apps simpler.

All Perfect Icons bring you over five thousand unique Web 2.0 icons in 3,200 different designs. With multiple variations including the different pixel resolutions, color depths, file formats and activity states, the total number of Web 2.0 icons comes to almost 80,000. The cost? The whole set will set you back $399. That's only 8 cents per unique image, a deal of the century!you won't find with anyone else.

All images from the All Perfect Icons set are sold royalty-free. If you're a busy developer, outsourcer, or work in a large company, you'll only need to pay once when you purchase this collection. All Perfect Icons can be used and reused in as many projects, Web sites and online apps as you like. The Web 2.0 icons are freely redistributable if used in your projects, online projects or mobile apps.

All Perfect Icons is a bundle of sets. The collection is comprised of 29 Web 2.0 icon sets, allowing you to develop Web apps of any type. Perfect CMS Icons, Toolbar Icons, Business and Database Web 2.0 icons, Bank, Network Web 2.0 icons, Security and Telecom Web 2.0 icons are provided among the rest. Office Web 2.0 icons, Document, Time, Hardware, Computer, Internet, Mobile, Transport, User, People, Blog, File, Download, Scientific, Medical, Web and Design Icons are also provided. Each sub-set is full of unique images grouped together and covering a certain topic. Some sets have as little as 60 images, while some others include 200, 300, or even 400 Web 2.0 icons depending on how narrow or how broad the topic is.

Technically, your order will bring you a huge bunch of icons that are grouped by the set. You'll get Web 2.0 icons sized of 16x16, 20x20, 24x24, 32x32 and 48x48 pixels. All icons are supplied in 32-bit True Color with semi-transparency, or in 256 colors depicted on a transparent background. Windows ICO, GIF, PNG, and BMP formats are supplied for every icon. Normal, disabled and highlighted states are available for each Web 2.0 icon.

As each Web 2.0 image is provided in all possible pixel resolutions, color depths, file formats and active states, the total number of images grows exponentially. That's how 5,000 unique images turn into 79,800 files.

The images are available for immediate purchase. A free instant preview is provided online. Visit www.perfect-icons.com/stock-icons/all-perfect-icons.htm to check out the preview or to place your order!


---
Web Crawler - One Type of Computer Based Program
Web crawler is one type of computer based program that has used to browses the World Wide Web in the methodical that in the orderly fashion or the automated manner. On the other hand, the term Web crawlers are referring to the automatic indexers, ants, Web spiders, bots, Web robots, and mostly in the FOAF community and Web scutters. This method is known as the spidering and Web crawling. Most of the sites, particularly in the search engine are using the spidering to offer the up to date data. Mainly, the Web crawlers has used to make a copy of entire visited page for afterward processing through the search engine that will index entire downloading pages to offer fast search. Crawlers are also used for the computerize maintenance task on the website like validating HTML code or checking links. Crawlers can also use to collect the specific types of information from the Web page to produce e-mail addresses.

Number of the possible crawlable URLs to be generated by the server side program has as well made that very difficult for the web crawlers for avoiding retrieving duplicate content. The endless combinations of the HTTP GET parameters exist, that just small selection may actually return some unique content. Example, the simple photo gallery online might give 3 choices to the users, like specified through the HTTP GET parameters in URL. In case, there exist 4 methods to sort the images, then three options of the thumbnail size, 2 file formats, as well as option to disable the user provided content, same set of the content is accessed with around 48different URLs, which are linked on a site. The mathematical combination makes the problem for the crawlers, since they should sort through the endless combinations of minor scripted changes to retrieve the unique content.


---
Individual Ready Icons
You can buy individual icons to suit your needs. Each icon is $1 when purchased individually.
Icon Usage Agreement
Perfect Toolbar Icons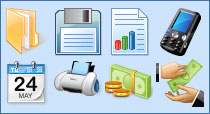 Business Toolbar Icons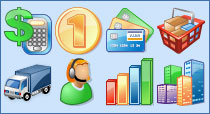 Database Toolbar Icons